We

currently maintain 80+ docks on the North River and in surrounding communities. We disconnect the floats and ramps from the docks each fall then take them out of the river, then reinstall in the spring. We inspect the floats, ramps and docks each year as we connect and disconnect them to proactively identify any hardware that may be in need of replacement or any other issues that may cause problems in the future. We can also rebuild older docks in need of repair.


In the summer of 2011, we were awarded the contract to build floats for the Scituate Harbor Master. This addition featured Brazillian Ipe decking. It was built to seamlessly attach to the existing marina. It allows for additional dockage complete with access allowed to offer water and electrical hookups.
We maintain docks in Hingham, Marshfield, Cohasset, Duxbury, Hanover and Norwell plus floating docks in the South River. We install and remove the docks and ramps both at the Jericho public launch and a set of floats and ramp at the commercial fishing pier.


New Dock Construction


We have built numerous docks in multiple locations, each individualized to suit the home owners specifications. We like to get involved in the process as early as possible to help assist with the design and layout of each individual dock.

Are you considering building a new dock? We come to you, sit to discuss our services and options. Docks built are constructed with pressure-treated lumber using heavy duty galvanized steel hardware to the Army Corp of Engineer specifications. If you are contemplating building a dock, check out the hyperlink below. It is an article from the Wall Street Journal listing some of the benefits to building a dock.
Wall Street Journal Article - When the dock is worth more than the house
Below is an example of a brand new dock we built on the North River in 2008. We believe the pictures and our customer's response speak best on our results:
"Just want to thank you for all your hard work and expertise in building my dock. You came in with a proposal that was reasonable in price and carefully delineated so that I knew exactly what to expect and when. You kept every promise and implemented the construction exactly as proposed. There were no surprises - what you said was what you did. Thank you, also, for being so responsive to all my telephone calls and email questions. It was very reassuring to know that you were always only a phone call away." ~Bob Salamone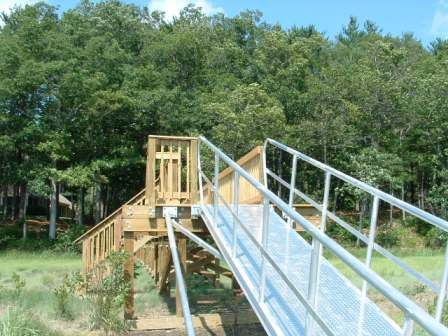 Dock Repairs/Rehabilitation
We are more than willing to take a look at your existing dock, float or ramp to determine if it is structurally sound and to make recommendations on anything that requires repair. We can also make recommendations on ways your current set-up can be enhanced to improve your experience.
Below is an example of a dock that had fallen into extreme disrepair, with its pilings damaged and the dock having fallen partially into the North River. The pilings were repaired and the deck was rebuilt in 2006.
Before After


Below is a handicapped ramp built for the town of Norwell in 2014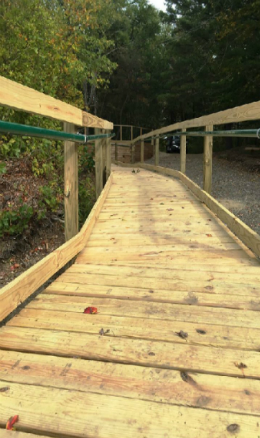 Here is another set of before and after photos of a freshwater dock we replaced in 2014



Driving the pilings for a dock in Cohassett


Here is the finished dock


Before picture of existing dock and ramp


Finished dock featuring the following items- 10 foot finger pier, custom made bench with storage, Kayak storage rack, and specially designed float to allow the customer's dogs to get back on the dock from the water. All of the floats are decked with ipe except the one for the dogs, it is surfaced with indoor/outdoor carpet to give better purchase for their feet.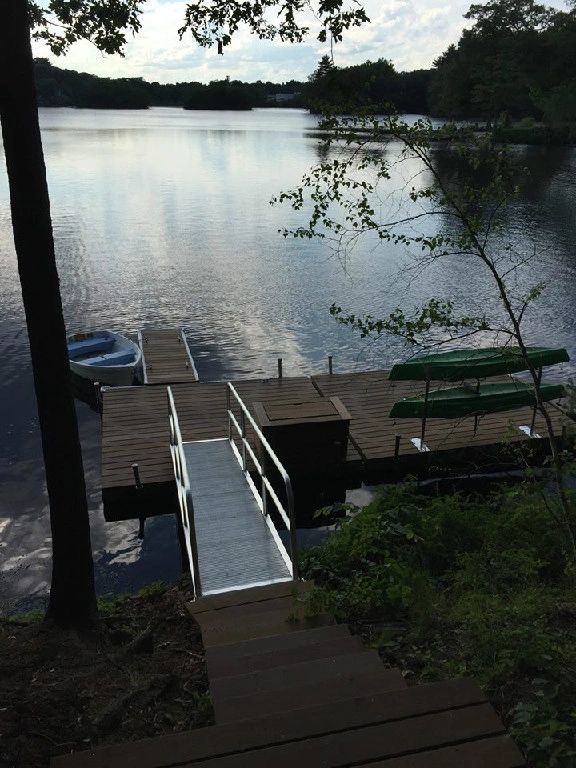 Testimonial from the homeowner-
We could not be happier with the gorgeous dock Harbor Mooring designed and built for us as a repair of our ancient one that had been damaged by ice. Keith, Paul and their crew were professional, efficient, and are clearly experienced with building docks - this is not a Home Depot handyman project! The design, ramp, fixtures and materials are of highest quality and several pieces were custom-built. The pride of craftsmanship is obvious, and I expect this dock to last for decades

These are the pictures of a new dock build in Cohassett we procured while building a dock just a couple houses down.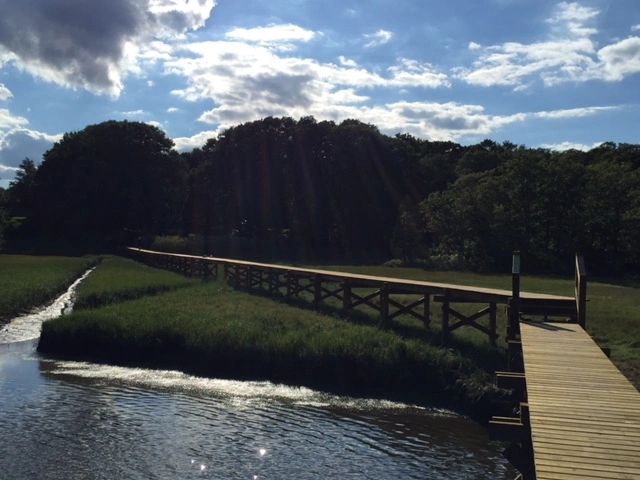 The ramp and float shown below are both decked with Brazillian Ipe wood. The float has a cutout for the homeowner to pull their kayak into. The right hand photo is the dock on a full moon tide.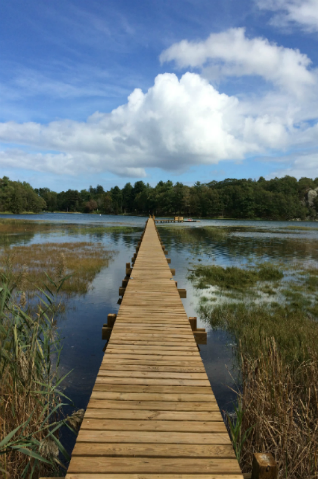 Here is a photo of us delivering the float through the narrow bridge. It was an exciting time.



Below are photos of a project for the Town of Norwell at Stetson Shrine
Before: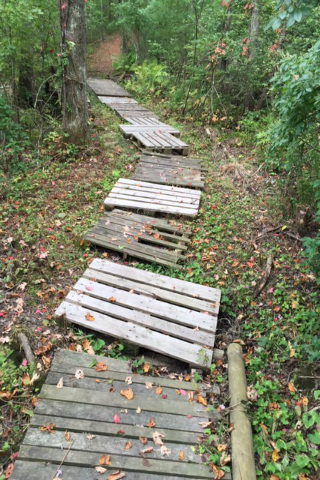 After: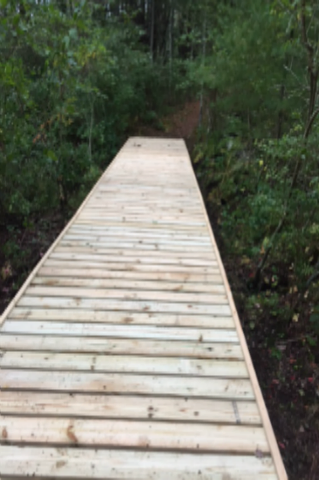 Here are a couple more photos of projects for the Town of Norwell at Jacob's Pond. These walkways for the town are built over wetlands to assist both the recreational user and also to allow access for emergency vehicles.
This is a smaller section on one part of the trail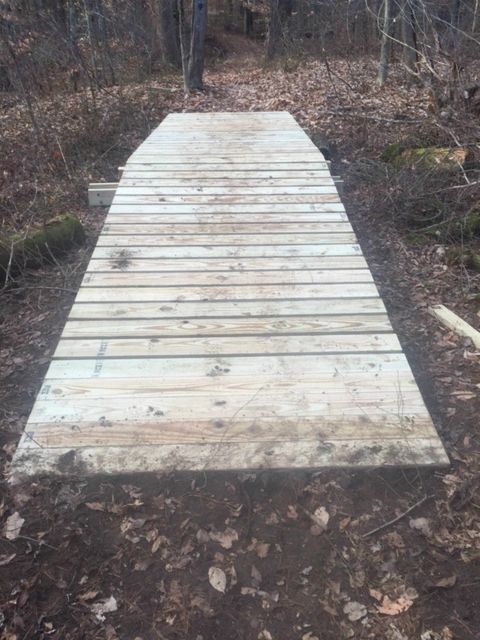 This is a longer section further down the trail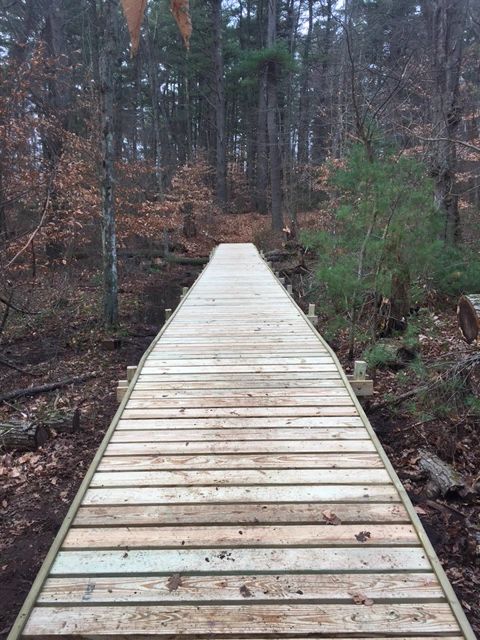 Below is a dock on the North River whose pilings had been sinking and high tides were covering part of the walkway. We raised the middle portion of the dock, while maintaining the existing platform.

Here is a photo showing the old walkway, with the new higher walkway being constructed above it.



Finished dock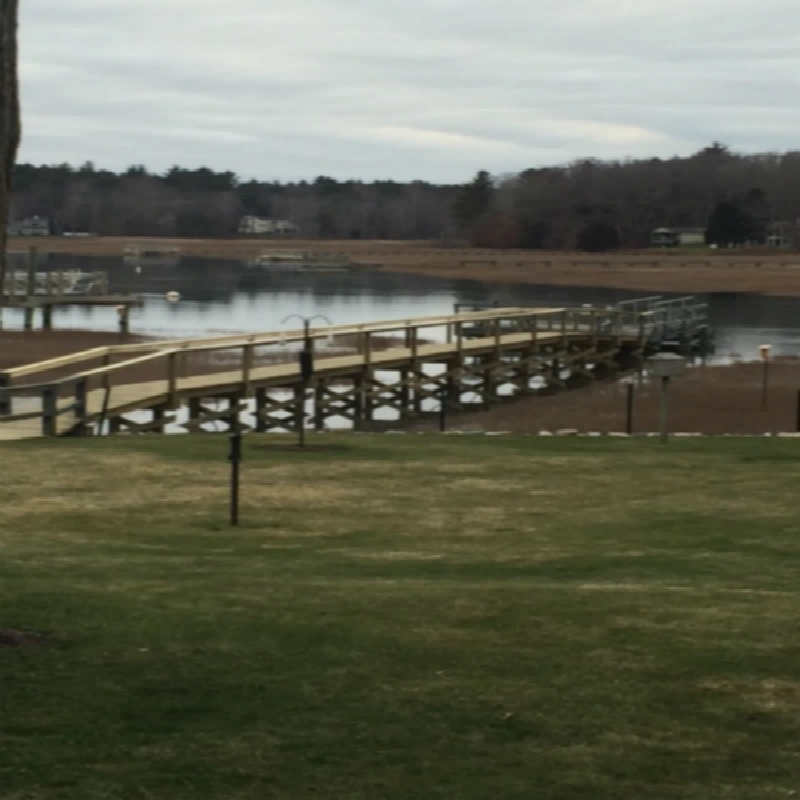 Here are photos of a dock that needed to be rebuilt and was upgraded to ipe decking at the same time.