2020 UPDATES

December 30, 2019

Happy Holidays to everyone! Hope your winter is going well? We are currently in the midst of multiple repair/rebuilds of a number of local docks. As always, all of our moorings and docks are safely tucked away for the winter season. We also received some great news today that we will be rebuilding all of the floats for a local marina. Thank you for your vote of confidence. We are looking forward to a short winter and seeing all of you back on the water in the spring.


July 6, 2019


Here we are again, another summer well underway. As in the past we continue to grow each and every year. Thank you all for the great recommendations. Over the past few months, we have been working in the harbor, North river, Hingham, Cohasset and many other locales. Recently we built a bridge in Rockland's Hartsuff Park. It is a multi use area with ball fields, playground, disc golf course among other activities. Take the time to check it out.

March 22, 2019


H

i All, hope your winter is going well. We have been working hard on various projects throughout the winter. The largest being rebuilding a number of floats for the Scituate Harbor Yacht Club. We are working through the elements to get it done in time to drive pilings on the marina which will make it both more functional and secure. See you all in th

e

spring.

August 29, 2018


It'

s

been a while since the last news update. Sorry for the long wait. We have been busier than ever. We continue to increase our customer base, staff and field of operation. We have traveled to the North shore and down to the cape. It seems like every time we start a new project, the neighbors wander over to ask us to look at their docks. We recently had a number of our summer staff go back to college and we would like to both say thank you for your hard work and wish you well with your studies. Check out the docks page for some updated photos of some of our recent projects. We hope you all enjoy the rest of the summer.

January 29, 2017


Another year over and here we are in the middle of another winter. We are currently in the midst of numerous projects. We are building a number of docks in the surrounding communities and also in the middle of building over 30 new floats for both the Scituate yacht club and private home owners. We continue to grow each and every year and it is all due to word of mouth. Thank you for your continued support

January 20,2016
It looks like winter is finally here, with the frigid temperatures and snow forecast for this weekend. Let's hope it is not a repeat of last year. We have been hard at work rebuilding a number of docks and also building multiple floats for spring installation. Last year was our busiest ever, and much of this business is due to your recommendations. Thank you for your continued support. If you haven't already, please check out pictures of the newest projects on the dock page. Let's hope for a mild winter and an early beginning to the boating season.


As always, if you have any needs or questions, please don't hesitate to call anytime.

-Keith and Paul

March 2, 2015


Whoever said let it snow? It just keeps getting deeper. There were numerous weather related incidents this winter, not the least of which was someone left their boat on a mooring in Scituate harbor for the winter and with all of the snow and ice, unfortunately it seems to have sunk. The harbor is still frozen over solid, so no recovery attempt has been made yet, but we send out our best to whoever is the unfortunate boat owner. Let's hope this weather breaks soon and we can get back to boating as soon as possible. That being said, with all of the snow on the ground, it may push our annual dock inspections back later than normal. We can not do a thorough job when a large majority of what we inspect is covered in snow and ice. If we do not accomplish these before installation time, we will do a quick visual check while we are installing your dock to make sure there are no obvious condition issues.

We continue to grow as a company each and every year, thanks to your continued support and goodwill. Last year, we took over installing and removing the Scituate Yacht Club Marina. We have assisted the yacht club in the past with maintaining the docks, but when unfortunate timing left them without a caretaker, they contacted us to install and get the docks ready for the season. Thank you to all of you who recommended us to the people in charge.
This year we already have a number of both docks and floats to build, as well as our normal installations, inspections, and repairs. We eagerly look forward to the melting to begin and the season to kick off with a bang. We can't wait to see you all out there.

As always, if you have any needs or questions, please don't hesitate to call anytime.



-Keith and Paul




March 6, 2014

Well with snow in the forecast for next week, it seems like winter will never go away. However, I am sure the end is just around the corner. We are currently out conducting our yearly dock reports, so watch the mail for yours. Also, we continue to garner new customers and every one is because of recommendations from existing members of the Harbor Mooring community. A hearty thank you to each and every one of you. If we maintain your mooring in Scituate Harbor, please be informed the date all winter sticks must be removed has been changed from June 1st to May 15th. All of your moorings will be in by this date.

As always, if you have any needs or questions, please don't hesitate to call anytime.

-Keith and Paul

December 14, 2013
Winter is well underway and all of the docks and moorings are safely removed for the season. We actually just finished constructing a new 400 foot dock on the North River. It is just off the river in Cove Creek and I think it looks great. Swing by next year, take a look and let us know what you think. Lets hope for a short winter and an early start to spring. We will continue with the practices we have instituted over the last few years to continue to hopefully make your experience better.
As always, if you have any needs or questions, please don't hesitate to call anytime.

-Keith and Paul


March 7, 2013


We are currently conducting our annual dock inspections and you should be receiving the results shortly. The lunar high tides coincide with the last days of the next couple of months. We will be reinstalling your docks on these tides. Please be aware these tides are in the middle of the night, so don't be alarmed when you see us there. Boating season is just around the corner as well, so moorings will also be going in soon.

As always, if you have any needs or questions, please don't hesitate to call anytime.

-Keith and Paul

September 5, 2012

The fall is fast approaching and sadly it is time to think of the end of another boating season. We hope you all enjoyed the summer and the weather cooperates to help extend the season. We recently sent out the winter postcards requesting the dates when your moorings will be vacated for the winter and also when you would like it reinstalled in the spring. As you will notice in the accompanying letter, the underwater camera has been out of commission and we have been working with the manufacturer to get it repaired. It will be ready for next season and we will proceed with videotaping all of your inspections.

As always, if you have any needs or questions, please don't hesitate to call anytime.

-Keith and Paul

March 11, 2012

Spring is right around the corner, but unfortunately it is not quite here yet, evidenced by the snow we received yesterday. We noticed some of the other mooring companies have put mooring balls back in the river, we feel that it is still too early and there is no reason to have your gear subjected to more wear than is necessary. We are currently conducting our annual dock inspections, so watch the mail for your packets. Also in the near future, specifically the first week of April, are the lunar high tides during which we will be installing many of the docks.


As always, if you have any needs or questions, please don't hesitate to call anytime.


-Keith and Paul

February 5, 2012


Hoping everyone is having a great winter. The weather has been extremely mild and hopefully bodes well for an early start to the boating season. Along with the fall bills we included a new feature this year. While pulling your mooring this year, we conducted an informal inspection of all visible gear, as we always do. However, this year we decided to send the findings in the form of a small report to let you know if we found any issues. We hope you find this to be useful in planning for next season. We will be out in the early spring conducting our annual dock inspections as well. So if you are one of our dock customers, keep an eye out for the packet in the mail.


Go Pats!

As always, if you have any needs or questions, please don't hesitate to call anytime.


-Keith and Paul
November 28, 2011
Sadly another boating season is gone and all we have left are the memories. However, it was a great summer and seemed to go on almost indefinitely. We would like to wish you and your families a Happy Thanksgiving and a wonderful holiday season. We wish you all have peace and happiness. We have finished winterizing all of our moorings, with the few exceptions of the hardy souls with their boats still in the water. This weekend also marks the November high tides, so those of you whose docks are scheduled to come out this month, look for us on Saturday and Sunday. Enjoy the winter, and we look forward to seeing you in the spring.
As always, if you have any needs or questions, please don't hesitate to call anytime.


-Keith and Paul
September 11, 2011 - Remembrance

We at Harbor Mooring, on the anniversary of 9/11, would like to take this opportunity to remember the victims and honor the heroes of that day. I'm sure we all remember the awful shock and grief we first experienced, witnessing this horror take place in front of our eyes. It changed the way we approach our lives and the way we conduct ourselves on an everyday basis. Many of us knew someone directly affected by this tragedy. Our thoughts and prayers are with you and your loved ones.
However, it also brought to light how many heroes we have living and serving us everyday. These included the numerous first responders who valiantly risked their lives to try and save others. Among them were individuals we all take for granted – police, fire fighters, emergency medical personnel, military men and women, and so many others too numerous to list, but each worthy of our thanks and admiration. It also showed how we as a nation could come together and show support and love for each other. These are the ideals we should continue to uphold and applaud. God bless America.
-Keith and Paul
May 28, 2011 - Spring finally arrives

The weather finally feels like boating season! All of the docks and moorings we manage are in and ready to go. We are starting to conduct the inspections that are due. We are experiencing a little technical difficulty with the underwater camera. However, this will not keep us from performing any inspections on time. If you have a mooring or float that needs to be inspected before the camera is fixed, we will perform it and when the camera is operational, we will return to video tape it. We wish you all a great season and hope to see you on the water soon.

As always, if you have any needs or questions, please don't hesitate to call at any time!
-Keith and Paul

March 17, 2011 - Happy St. Patrick's Day

Spring is almost here and so is the beginning of the boating season. We are currently conducting our annual inspection off all the docks we manage. To those of you who utilize us for dock service, we will be sending out the inspection packages in the very near future. It will contain all the information detailing the composition and current condition of your dock. Also any issues or areas of concern will be listed, as well as any suggestions we have to fix these items. As in year's past, there will also be photos of your dock, thereby giving you annual documentation to compare and contrast how your dock is faring year after year.

We look forward to seeing you all on the water very soon.


As always, if you have any needs or questions, please don't hesitate to call at any time!


-Keith and Paul
December 30, 2010 - Happy Winter
Winter is upon us, and the fantastic summer weather seems like it was so long ago. All the docks and moorings that we manage have been removed and placed in storage as winter storms and ice can wreak havoc on floats and mooring gear. As usual, we will be conducting our annual inspections of all dock customers and will be sending you informational packets with our findings. This inspection allows you to avoid potential larger issues in the future.


Also, remember to watch your mailbox as our annual calendar will be arriving shortly. Next year we will be including photos submitted by Harbor Mooring customers. These photos will feature customer boats, the wonderful scenery of the Scituate area and the many locales customers visited while cruising.


As always, if you have any needs or questions, please don't hesitate to call at any time!


-Keith and Paul
August 25, 2010 - An update
We would like to apologize for not updating this news page in so long. It has been a phenomenal summer, with unbelievably good weather. This has allowed the boating season to be quite memorable, and we have been out on the water almost every day, as I hope you've been able to as well. As you are probably aware, we purchased an underwater camera to record all the inspections we conducted. If you were due for an inspection this year, look for your copy to arrive later this year. We look forward to hearing your comments on this new feature. We also now feature a Facebook page, thereby offering another venue to keep in touch with us and your fellow boaters.

Although none of us want to think about it, fall is fast approaching and unfortunately, this signals the end of the boating season. We recently just sent out the postcards for you to let us know when you would like your mooring/dock winterized and reinstalled in the spring. Keep an eye on the mail, as they should be arriving any day now. As in years past, we are continuing our tradition of entering all those who reply early into a drawing for various prizes. We included the winners of last year's raffle in the letter accompanying the winter service postcards. Congratulations to those winners.

Let's hope the nice weather continues well into the year, allowing us all to enjoy a few more days on the water.

As always, if you have any needs or questions, please don't hesitate to call at any time!

-Keith and Paul

February 8, 2010 - Six more weeks of winter...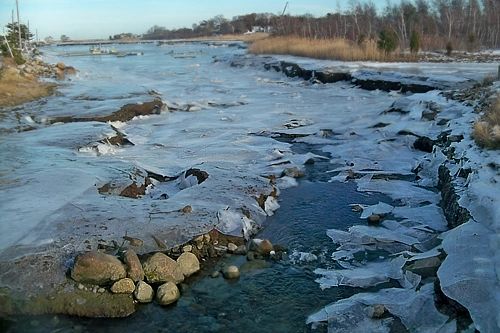 Winter is here and it seems like it does not't want to go away! Last week the groundhog saw his shadow, sadly predicting another six weeks of cold and snow. But before you know it, spring will be here and we'll all be back on the water!
For those of you with docks, we will be conducting our annual inspections within the next few weeks, and we'll send out our observations and any recommendations immediately thereafter. These information packets will also include photos and a report of the condition of all parts of your dock.
For our mooring customers, we are currently in the middle of our off-season maintenance. This includes cleaning, inspecting, painting, greasing, and any other work your mooring gear might need.
In other mooring news, starting this year, all of our mooring inspections will be videotaped. This will allow you a look at all your mooring tackle that is under the water. We are very excited about this new feature and would love to hear your thoughts on this new service.
Remember, if you have any needs or questions, please do not hesitate to call at any time!
-Keith and Paul
* * * *

June 24, 2009 - Welcome to summer...right?
Spring seemed to have better weather than the summer has started with, but another boating season has begun, and we look forward to the warm, sunny weather to come. Most of our moorings are in place and ready for your use!
We will be inspecting and performing maintenance on all the moorings that need it. As we specified in a previous letter to everyone, we'll do inspections for all moorings for which we currently complete winter service, but we will not do any work without your prior permission. As always, we complete all necessary work before billing.
For anyone requiring a new ball—we are recommending a chain-through-the-ball hard ball. The benefit to this is that the pennant will not wrap around the chain and chaff. We are trying to ensure that the weakest link on any mooring, the pennant, be as safe as it can be. We also will not use any jaw-and-eye swivels on your moorings, only eye-and-eye. Please call us if you would like us to explain either of these things further.

We'll close this update with some great news: we will be doing a launch next season! Much more info to follow on our website and through the mail.

Remember, if you have any needs or questions, please do not hesitate to call at any time!
-Keith and Paul
* * * *

March 24, 2009
Spring has arrived and so has another boating season! We've all heard the old adage that an ounce of prevention is worth a pound of cure. Well, over the winter we completed inspections of all your docks. You should be receiving the results, along with any recommendations we have, in the mail within just the next few days.
We have also been hard at work inspecting, painting and doing maintenance on all your mooring gear – getting them ready to be installed. We're looking forward to the nice weather and getting back out on the water. We look forward to seeing you all out there.
Remember, if you have any needs or questions, please do not hesitate to call at any time!
-Keith and Paul
* * * *

June 24, 2008It's summer time on the South Shore!

Other mooring companies often hear the question: "When are you going to get my work done?"
We've instead been hearing from our customers: "Thanks for doing the work! When can I expect the bill?"
This spring, our focus was making sure all mooring and dock work was completed. Now that we have finished our spring work, we're currently working on billing and expect that bills will be mailed within the next two weeks.
Also, we have been actively working on inspections, and have completed 60% so far. We are mindful of the inspection due dates, and we expect to have them all completed sometime in the next two weeks.
*Please check the Calendar page for an exciting new contest!

*Updates will be coming to the Dock page with photos of our last two projects.

Remember, if you have any needs or questions, please do not hesitate to call at any time!


-Keith and Paul
* * * *